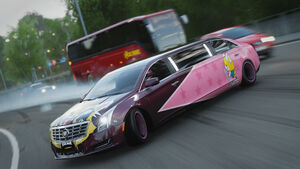 Hi, my username is LeMansRacer and I became a fan of Aggretsuko following the release of Netflix's first season.
As a long standing fan of metal, rock, punk, and more emo rock than I'd like to admit, it was the pitch of a death metal screaming Hello Kitty character that made me want to watch the series, and I found more to latch onto from sheer enjoyment that I ever could have expected.
I'm one of those guys that quotes old Simpsons and Futurama episodes, so it's interesting to have Aggretsuko be the third show after so many years.
---
I've had a long history with Wikia, with nearly 10 years working towards building up the Need for Speed Wiki, and helping friends break ground on other wiki projects.

I look forward to spending time working on the Aggretsuko Wiki but, much like our favourite office worker, there's not always enough time in the day to get things moving... or enough night left over after venting.
---
I have a message wall, please feel free to message me about anything concerning this wiki or any projects you might like a fresh set of eyes on.