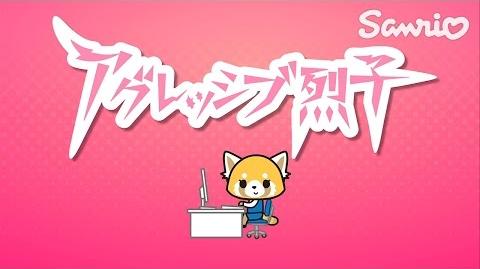 Aggressive Retsuko, also known as the "TV Shorts" or the "OVA" (Original Video Animation), are a series of 100 short length animations produced by Fanworks featuring Sanrio's Retsuko and her co-workers.
It premiered on April 2, 2016, and ran until March 31, 2018, as part of Ôsama no buranchi (King's Brunch), a variety show on TBS Television. Each episode is between a minute to 2 minutes in length.
Short #100, which aired on March 31, 2018, bookends the series of shorts with Retsuko in a karaoke booth expressing her frustration over her boss' verbal abuse, cracking the screen of her new phone, and accidentally receiving coffee instead of her ordered Oolong tea. With Retsuko ready to death growl her troubles away, the karaoke clerk calls her booth to inform her that she has ten minutes left and that "Aggressive Retsuko is moving from its position at King's Brunch" alongside a thank you to fans for their viewership.
The final episode concludes with Retsuko shrieking that she would like an extension. Season 1 of the Netflix series aired nearly a month later on April 20, 2018, following the series' announcement by Netflix on February 6, 2018.
Pony Canyon released two DVDs with shorts #1 through to #15 on January 1, 2017[1] and shorts #16 through to #31 on April 19, 2017.[2]
All 100 TV shorts are included as rewards for progressing through various stages of Aggretsuko: The Short Timer Strikes Back, a free-to-play match-3 puzzle game released for Android and iOS devices on July 28, 2020.
Episodes
Episode
Details
Episode 1 - "Stress Relief"
Retsuko gets swamped with paperwork at work.
Aired: Apr 2, 2016
Beat Stage 5
Episode 2 - "Kabae"
Hippatricia tries to make Retsuko look at photos of her kids.
Aired: Apr 9, 2016
Beat Stage 10
Episode 3 - "King of Old-timers"
Retsuko is looking forward to free food at the company mixer, but gets swamped with paperwork.
Aired: Apr 23, 2016
Beat Stage 20
Episode 4 - "Yoga Studio"
Retsuko signs up for a yoga class.
Aired: Apr 30, 2016
Beat Stage 30
Episode 5 - "Depressing Drinking"
Retsuko gets stuck sitting next to her sexist boss, Hog, at a company mixer.
Aired: May 7, 2016
Beat Stage 40
Episode 6 - "Mysterious Yoga Instructor"
Retsuko's yoga teacher isn't suited for the job.
Aired: May 14, 2016
Beat Stage 50
Episode 7 - "Daily Relaxing Time"
Retsuko can't remove the price sticker from her cubicle decoration.
Aired: May 21, 2016
Beat Stage 60
Episode 8 - "The Rush Hour"
Retsuko stares at her co-worker, Lester, who she has a crush on.
Aired: May 28, 2016
Beat Stage 70
Episode 9 - "Kabae's Visit"
Retsuko wants to sleep off her cold, but Hippatricia comes over.
Aired: June 4, 2016
Beat Stage 80
Episode 10 - "Exciting Overtime Work"
Retsuko gets caught slacking off.
Aired: June 11, 2016
Beat Stage 90
Episode 11 - "Director Gori's Love Problem"
Ape Admin sabotages her dates by being overzealous.
Aired: June 18, 2016
Beat Stage 100
Episode 12 - "Cute Junior"
Giselle buys the dress that Retsuko was going to buy.
Aired: June 25, 2016
Beat Stage 110
Episode 13 - "Young? Or Not Young?"
Scatherine micromanages Retsuko.
Aired: July 3, 2016
Beat Stage 120
Episode 14 - "Yokosawa"
Yokosawa doesn't believe Retsuko when Retsuko says she's not on a diet.
Aired: July 10, 2016
Beat Stage 130
Episode 15 - "Retsuko's Curry"
Retsuko makes curry at the company barbecue.
Aired: July 17, 2016
Beat Stage 140
Episode 16 - "Like"
Giselle leaves work early to go on a date.
Aired: July 23, 2016
Beat Stage 150
Episode 17 - "Making Tea"
Retsuko's boss, Buffalo, is very particular about how he takes his tea.
Aired: July 30, 2016
Beat Stage 160
Episode 18 - "Air Conditioning War"
Retsuko wants to turn down the air conditioner at work.
Aired: Aug 6, 2016
Beat Stage 170
Episode 19 - "Retsuko's Holiday"
Giselle spots Retsuko dressed down, much to Retsuko's horror.
Aired: Aug 13, 2016
Beat Stage 180
Episode 20 - "Makeup Touch-up"
Hippatricia hogs the bathroom mirror.
Aired: Aug 20, 2016
Beat Stage 190
Episode 21 - "I Don't Wanna Go To Work"
Retsuko doesn't want to get out of bed.
Aired: Aug 27, 2016
Beat Stage 200
Episode 22 - "Favoritism"
Scatherine is overly critical of Retsuko.
Aired: Sep 3, 2016
Beat Stage 210
Episode 23 - "Woman With an Agena"
Zelda chooses a restaurant where she dislikes most of the menu items.
Aired: Sep 10, 2016
Beat Stage 220
Episode 24 - "Ms. Mashiro"
Armadonna fishes for compliments.
Aired: Sep 17, 2016
Beat Stage 230
Episode 25 - "Retsuko's Souvenirs"
Retsuko bakes cookies for her co-workers but they don't want any.
Aired: Sep 24, 2016
Beat Stage 240
Episode 26 - "Woman That Doesn't Listen"
Yokosawa talks incessantly about herself but doesn't want to hear about Retsuko's life.
Aired: Oct 1, 2016
Beat Stage 250
Episode 27 - "At the Family Restaurant"
Retsuko can't hear the restaurant waiter over her loud co-workers.
Aired: Oct 8, 2016
Beat Stage 260
Episode 28 - "Borrowed Book"
Retsuko regrets lending Hippatricia a book.
Aired: Oct 15, 2016
Beat Stage 270
Episode 29 - "Organising a Meeting"
Giselle pins planning a last-minute party on Retsuko.
Aired: Oct 22, 2016
Beat Stage 280
Episode 30 - "The Blah-blah Girl"
Carrie rants in complicated jargon that goes over Retsuko's head.
Aired: Oct 29, 2016
Beat Stage 290
Episode 31 - "Celebratory Picture"
Ape gets drunk and takes bad group selfies.
Aired: Nov 5, 2016
Beat Stage 300
Episode 32 - "Carefully Spoken Words"
Retsuko gets excited when Wolfgang asks for a word in private with her.
Aired: Nov 12, 2016
Beat Stage 310
Episode 33 - "Woman That Won't Go Home"
Ape Admin stops by Retsuko's home for lunch but becomes glued to the T.V.
Aired: Nov 19, 2016
Beat Stage 320
Episode 34 - "Hopeless Boyfriend"
Ruth brags to Retsuko and Zelda about her boyfriend.
Aired: Nov 26, 2016
Beat Stage 330
Episode 35 - "Woman Who Hate Each Other"
Giselle gossips about Zelda and Zelda gossips about Giselle.
Aired: Dec 3, 2016
Beat Stage 340
Episode 36 - "Gossiping Busted"
Retsuko's boss, Hog, overhears her trash-talking about him.
Aired: Dec 10, 2016
Beat Stage 350
Episode 37 - "Someone Who Looks Like She Has a Boyfriend"
Retsuko laments not having a boyfriend to hang out with during the holiday season and Giselle tells everyone about it.
Aired: Dec 17, 2016
Beat Stage 360
Episode 38 - "Christmas"
Retsuko gets drunk on Christmas Eve because she doesn't have a boyfriend.
Aired: Dec 24, 2016
Beat Stage 370
Episode 39 - "New Year's Resolution"
Retsuko gets her fortune told at the Shogatsu festival.
Aired: Jan 7, 2017
Beat Stage 380
Episode 40 - "Sales Clerk"
Retsuko goes to a mall for a fun and relaxing day of shopping, but an employee pesters her.
Aired: Jan 14, 2017
Beat Stage 390
Episode 41 - "Embarrassing DVD"
Retsuko is embarrassed about buying a sappy romance movie.
Aired: Jan 21, 2017
Beat Stage 400
Episode 42 - "Resasuke"
It's almost Valentine's Day and Retsuko runs into Lester at work.
Aired: Jan 28, 2017
Beat Stage 410
Episode 43 - "Pre-Valentine's Day"
Retsuko buys Lester a box of chocolate for Valentine's Day.
Aired: Feb 4, 2017
Beat Stage 420
Episode 44 - "Valentine's Day"
Retsuko plans on making Lester her Valentine.
Aired: Feb 11, 2017
Beat Stage 430
Episode 45 - "Cold"
Hippatricia comes into work with the flu.
Aired: Feb 18, 2017
Beat Stage 440
Episode 46 - "Peek"
A woman texts her boyfriend and Retsuko becomes invested in the conversation.
Aired: Feb 25, 2017
Beat Stage 450
Episode 47 - "Countermeasures to Snoring"
It's too noisy for Retsuko to sleep.
Aired: Mar 4, 2017
Beat Stage 460
Episode 48 - "Just Not That Into You"
Amir insists that Retsuko hang out with him.
Aired: Mar 11, 2017
Beat Stage 470
Episode 49 - "The Boss' Suggestion"
Retsuko's boss, Buffalo, asks her to set him up on a date with Zelda, who is another subordinate of his. Retsuko calls him a loser behind his back.
Aired: Mar 18, 2017
Beat Stage 480
Episode 50 - "Flower Viewing"
Instead of finding tranquility from watching cherry blossoms bloom, Retsuko gets bored.
Aired: Mar 25, 2017
Beat Stage 490
Episode 51 - "April Fool's"
Hippatricia plays an April Fools' Day prank on Retsuko.
Aired: Apr 1, 2017
Beat Stage 500
Episode 52 - "New Recruit 1"
Doug won't stop asking Retsuko questions about how to do his job.
Aired: Apr 8, 2017
Beat Stage 510
Episode 53 - "Trip to the Convenience Store"
Doug is about to go on a food run but won't stop asking Retsuko questions about what to get.
Aired: Apr 15, 2017
Beat Stage 520
Episode 54 - "Trap of the Elevator"
Giselle won't hold the elevator door open for Retsuko.
Aired: Apr 22, 2017
Beat Stage 530
Episode 55 - "Wall of Kabae"
Hippatricia's mess spills over onto Retsuko's cubicle.
Aired: Apr 29, 2017
Beat Stage 540
Episode 56 - "Self-conscious Gorilla"
Ape Admin brags about how men are always checking her out.
Aired: May 6, 2017
Beat Stage 550
Episode 57 - "New Recruit 2"
Lucille won't stop snacking while Retsuko trains her.
Aired: May 13, 2017
Beat Stage 560
Episode 58 - "The Whereabouts of the Present"
Retsuko buys Eaglette a coffee mug for her birthday.
Aired: May 20, 2017
Beat Stage 570
Episode 59 - "Trap of an All-you-can-drink Pub"
Retsuko agrees to split the restaurant check, but then her co-workers order more than they said they would.
Aired: May 27, 2017
Beat Stage 590
Episode 60 - "Over-meticulous Man"
Amir micromanages Retsuko.
Aired: June 3, 2017
Beat Stage 590
Episode 61 - "I'm Different From You"
Armadonna laments that she's given up on dating and just wants to look at handsome anime characters.
Aired: June 10, 2017
Beat Stage 600
Episode 62 - "Support From the Junior"
Retsuko's sexist boss, Hog, yells at her for no good reason.
Aired: June 17, 2017
Beat Stage 610
Episode 63 - "Man That Never Fixes"
Heinrich fixes everything except Retsuko's computer.
Aired: June 24, 2017
Beat Stage 620
Episode 64 - "Spoiler Alert"
Retsuko invites Zelda over to watch T.V., but Zelda gives away all the plot twists.
Aired: July 1, 2017
Beat Stage 630
Episode 65 - "Kabae's Diet"
Hippatricia goes on a diet.
Aired: July 8, 2017
Beat Stage 640
Episode 66 - "Meeting"
Retsuko goes to a company mixer where there are intimidatingly accomplished and handsome men present.
Aired: July 15, 2017
Beat Stage 650
Episode 67 - "Wandering Old Man"
To keep him in a good mood, Retsuko has to listen to her boss, Buffalo, rant.
Aired: July 22, 2017
Beat Stage 660
Episode 68 - "Scorching Summer Sun"
Retsuko has to wait for her boss, Hog, outside with no shade.
Aired: July 29, 2017
Beat Stage 670
Episode 69 - "FashionPolice"
Carrie gives Retsuko unwanted fashion advice.
Aired: Aug 5, 2017
Beat Stage 680
Episode 70 - "Dear Mother of That Child"
Retsuko gets stuck sitting next to an annoying little kid on the subway.
Aired: Aug 12, 2017
Beat Stage 690
Episode 71 - "It's Not Abut You"
Retsuko and Doug try to agree on a restaurant for Zelda's birthday dinner.
Aired: Aug 19, 2017
Beat Stage 700
Episode 72 - "Clueless Man"
Retsuko is mid-conversation with co-workers, when her boss, Buffalo, awkwardly joins in.
Aired: Sep 2, 2017
Beat Stage 710
Episode 73 - "You Had a Boyfriend?"
Armadonna laments that she and her boyfriend have lost their spark.
Aired: Sep 9, 2017
Beat Stage 720
Episode 74 - "Retsuko's Grandma"
Retsuko visits her grandmother.
Aired: Sep 16, 2017
Beat Stage 730
Episode 75 - "Let Me Have A Bite"
Retsuko and Giselle go out for dessert, but Giselle won't stop taking photos of the ice cream to post online.
Aired: Sep 23, 2017
Beat Stage 740
Episode 76 - "Pretending to Be Busy"
Beverly leaves work early to get her nails done.
Aired: Sep 30, 2017
Beat Stage 750
Episode 77 - "Who?"
Retsuko gets mistaken for someone else and pretends to understand what the stranger is talking about.
Aired: Oct 7, 2017
Beat Stage 760
Episode 78 - "Stop Working Overtime"
Retsuko gets swamped with paperwork at work.
Aired: Oct 14, 2017
Beat Stage 770
Episode 79 - "Woman Looking For Her Metro Card"
Hippatricia forgets her subway pass.
Aired: Oct 21, 2017
Beat Stage 780
Episode 80 - "Promise"
Retsuko waits for a friend who is taking forever to show up.
Aired: Oct 28, 2017
Beat Stage 790
Episode 81 - "Retsuko's Birthday"
Carrie takes Retsuko to a restaurant for a birthday dinner.
Aired: Nov 4, 2017
Beat Stage 800
Episode 82 - "Lazy Junior"
Retsuko wants to get back to work, but Doug keep talking.
Aired: Nov 11, 2017
Beat Stage 810
Episode 83 - "Woman Who Is Too Polite"
A sheepish new hire with some questions takes forever to get to the point.
Aired: Nov 18, 2017
Beat Stage 820
Episode 84 - "Listen!"
Beverly refuses to accept that she makes mistakes.
Aired: Nov 25, 2017
Beat Stage 830
Episode 85 - "Who Do You Think You Are?"
Retsuko and Zelda fawn over handsome celebrities, but Amir keeps barging in on their conversations.
Aired: Dec 2, 2017
Beat Stage 840
Episode 86 - "That Thing"
Retsuko's boss, Buffalo, keeps asking her to do things, but barely explains anything.
Aired: Dec 9, 2017
Beat Stage 850
Episode 87 - "Winter Illumination"
Retsuko and Ape are jealous of couples who are being lovey-dovey during the holiday season.
Aired: Dec 16, 2017
Beat Stage 860
Episode 88 - "Revival of the Holy Night"
Retsuko doesn't have any plans for Christmas Eve.
Aired: Dec 23, 2017
Beat Stage 870
Episode 89 - "Dad Language"
The men at the office don't know anything about women's clothing.
Aired: Jan 13, 2018
Beat Stage 880
Episode 90 - "Friend Request From the Boss"
Retsuko's boss, Buffalo, sends her a friend request on social media.
Aired: Jan 20, 2018
Beat Stage 890
Episode 91 - "Social Media With the Boss"
Retsuko's boss, Buffalo, sends her a message on social media.
Aired: Jan 27, 2018
Beat Stage 900
Episode 92 - "Magazine Freebies"
Retsuko reads her horoscope.
Aired: Feb 3, 2018
Beat Stage 910
Episode 93 - "Valentine's Day 2"
Retsuko's boss, Buffalo, drops hints until she gets him a Valentine's Day gift.
Aired: Feb 10, 2018
Beat Stage 920
Episode 94 - "Indecisive"
Retsuko and Zelda go shopping, but Zelda judges everything that Retsuko wants.
Aired: Feb 17, 2018
Beat Stage 930
Episode 95 - "Pick Up The Phone"
Doug is so used to texting that he's afraid of taking phone calls.
Aired: Feb 24, 2018
Beat Stage 940
Episode 96 - "Unimpressed"
Retsuko has a funny story to tell, but that makes a co-worker jealous.
Aired: Mar 3, 2018
Beat Stage 950
Episode 97 - "You Can't Say That!"
Retsuko scolds Doug for rushing through his work and has a meltdown when he talks back.
Aired: Mar 10, 2018
Beat Stage 960
Episode 98 - "White Day"
Amir gives Giselle a gift for White Day and Manager Buffalo sings to Retsuko.
Aired: Mar 17, 2018
Beat Stage 970
Episode 99 - "Flower Viewing 2"
The ladies of the accounting office have a picnic only to find they all brought the same dish and no utensils.
Aired: Mar 24, 2018
Beat Stage 980
Episode 100 - "The Final Episode"
Retsuko's entire day is ruined.
Aired: Mar 31, 2018
Beat Stage 990
References