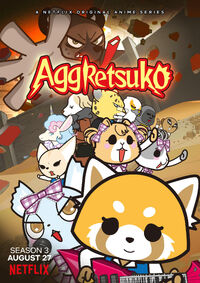 Season 3 is third season of Aggretsuko.
It follows Retsuko as her life becomes intertwined with the OTMGirls; an idol band comprised of Hidarin, Manaka, Migi, and their manager, Hyoudou.[1]
With her financial situation deteriorating through an addition to a virtual reality game, Retsuko is unable to pay for a car accident of her own doing with Hyoudou. They settle on a deal; Retsuko joins the idol group he's managing as the accounting director for the idol group he manages.
Meanwhile, Haida and Fenneko become aware that Retsuko is hiding something from them, and Gori starts up her own marriage counselling app with investment from Tadano.
Netflix announced on August 4, 2019, that the series was being renewed for a third season, and was released on August 27, 2020.[2]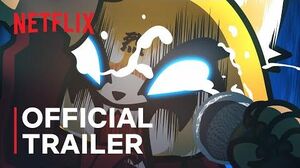 Episodes
Image
Episode
Details

"

The Blessings of Life

" (人生のうるおい)

With her romance over, Retsuko fills the void with a virtual boyfriend. Her savings take a massive hit when she spends recklessly on in-game purchases.

Episode 22
Aug 27, 2020
15:00

"

Deep in the Hole

" (辿り着いた穴倉)

Retsuko inadvertently backs into a parked car, damaging the other vehicle. Desperate for money, she reaches out to Gori for a loan.

Episode 23
Aug 27, 2020
14:57

"

A Sheltered Life

" (温室育ちのOL)

To repay her debt, Retsuko starts working as the accounting manager for an underground idol group. In reality, she's at their beck and call.

Episode 24
Aug 27, 2020
15:19

"

Winds of Change

" (生まれ変わった日常)

The OTMGirls turn a profit for the first thanks to Retsuko's business acumen, Haida hits it off with Inui after an unexpected encounter.

Episode 25
Aug 27, 2020
14:12

"

An Urchin in the Desert

" (砂漠にウニ)

After seeing Retsuko sing, Hyodo proposes that Retsuko become the lead vocalist, demoting Manaka in the process.

Episode 26
Aug 27, 2020
15:39

"

Crossroads

" (クロスロード)

The group's popularity soars after a blogger's favorable review. Concerned by Retsuko's recent odd behavior, Haida secretly tails her to Hokkaido.

Episode 27
Aug 27, 2020
15:57

"

An Impenetrable Wall

" (越えられない壁)

The OTMGirls receive an offer to perform at a rock festival. Hyodo rebrands the idols as a band, and the members must now learn to play instruments.

Episode 28
Aug 27, 2020
15:14

"

Bursting Her Bubble

" (はじけた泡)

Manaka's devotion to instrumental mastery inspires others to step up. Haida agrees to teach Retsuko guitar, but he invites Inui over on the same day.

Episode 29
Aug 27, 2020
15:27

"

The End of the Moratorium

" (モラトリアムの終わり)

Inui opens up to Haida about her feelings, but he's unable to respond. Director Ton lectures Retsuko when he learns she has a side gig.

Episode 30
Aug 27, 2020
15:36

"

When You Count to Ten

" (10数えたら)

She's shaken, but Retsuko acts normal in front of her bandmates after a deranged fan accosts her. Haida struggles to choose between Retsuko and Inui.

Episode 31
Aug 27, 2020
23:22
Media
References