Season 2 is the second season of Aggretsuko. Netflix announced on July 5, 2018 that the series was being renewed for a second season. In a teaser for We Wish You A Metal Christmas from December 2018, Retsuko said to the audience that season 2 wasn't quite ready yet.
The season premiered on June 14, 2019.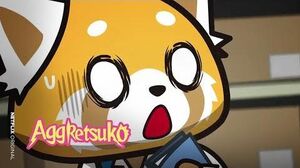 Episodes
Image
Episode
Details

"

Time To Grow Up

" (子供の終わり)

Retsuko becomes increasingly frustrated with her mother's overbearing ways. Director Ton demands the team be tough on their incoming new hire.

Episode 12
June 14, 2019
15:38

"

The New Hire Named Anai

" (穴井という名の後輩)

Without Retsuko's approval, her mother sets up an arranged marriage meeting. At first glance, new hire Anai seems like a nice and eager employee.

Episode 13
June 14, 2019
15:38

"

Double Moratorium

" (2つのモラトリアム)

Director Ton berates Retsuko for Anai's lack of progress on the job. Meanwhile, Anai continues to react very badly to any feedback from Retsuko.

Episode 14
June 14, 2019
15:38

"

Unavoidable Impact

" (避けられない衝突)

Retsuko and Anai have to host a food stall for the company's Family Appreciation Day event, but Retsuko does all the work to avoid conflict.

Episode 15
June 14, 2019
15:38

"

United Front

" (共同戦線)

Everybody hates Retsuko's badly-prepared yakisoba. Anai doesn't lift a finger to help, until Kabae gives him some words of encouragement.

Episode 16
June 14, 2019
15:38

"

Unknown Future

" (見えない未来)

Hearing that Shirota has officially moved on, Retsuko lets herself be talked into attending a matchmaking event -- where she runs into Director Gori.

Episode 17
June 14, 2019
15:38

"

Growing Affection

" (募る想い)

Now with a driver's license, Retsuko takes Gori and Washimi on a road trip, but things go south when the two ladies get into a heated argument.

Episode 18
June 14, 2019
15:38

"

He Lives Above The Clouds

" (空に住む男)

The unassuming Tadano turns out to be a rising tech mogul. He offers to take Retsuko out for ramen, but it's nothing like she's imagined.

Episode 19
June 14, 2019
15:38

"

She's Dreaming

" (夢見るOL)

Retsuko begins to dream of a happy future with Tadano. She joins him on a business-related golf outing, and is horrified when Director Ton shows up.

Episode 20
June 14, 2019
15:38

"

Wonderful Life

" (すばらしき人生)

The world learns all about Retsuko's high profile relationship and Tadano declares that he wants to be with her forever -- without getting married.

Episode 21
June 14, 2019
18:00
Media
Community content is available under
CC-BY-SA
unless otherwise noted.